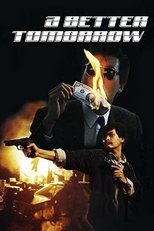 A Better Tomorrow
Are the police above the law? Ill send my insurance claim to you.
Runtime : 95 mins
Genre : Action Crime Drama
Vote Rating : 7.4
A reforming ex-gangster tries to reconcile with his estranged policeman brother, but the ties to his former gang are difficult to break.
Cast Members
Similar Movies to A Better Tomorrow