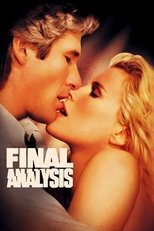 Final Analysis
Someone was seduced. Someone was set up. and before it was all over... someone was dead.
Runtime : 117 mins
Genre : Drama Thriller Romance
Vote Rating : 5.7
Barr is a psychiatrist who falls in love with the sister of one of his clients. Shes beautiful and married to a gangster. She hates her husband but is unable to escape from him.
Cast Members
Similar Movies to Final Analysis