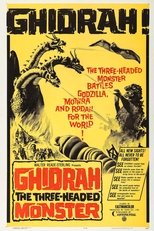 Ghidorah, the Three-Headed Monster
Space Super Monster attacks the Earth! Godzilla, Rodan, Mothra and the monster war of the century!
Runtime : 92 mins
Genre : Action Fantasy Science Fiction
Vote Rating : 7.3
The Princess Mas Selina Salno is seemingly assassinated as a mysterious meteorite lands in Kurobe Valley. When a scientific expedition examines the meteorite, they discover the rock is growing, producing heat and has a strong magnetic pull. Soon a prophetess, with a striking resemblance to the princess, warns of great calamity in the return of Godzilla, Rodan, and the arrival of King Ghidorah.