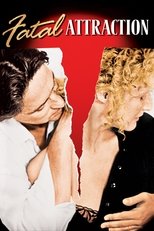 Fatal Attraction
A look that led to an evening. A mistake hell regret... FOR THE REST OF HIS LIFE.
Runtime : 119 mins
Genre : Drama Thriller
Vote Rating : 6.8
A married mans one night stand comes back to haunt him when that lover begins to stalk him and his family.
Cast Members
Similar Movies to Fatal Attraction